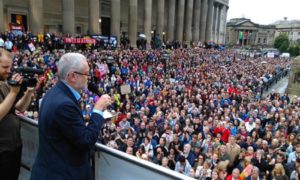 Labour Officials warned to be on the alert for violent behaviour at Labour Party Conference.
This is a headline in today's i paper. Apparently there is a memo, we are not told who wrote it, that warned Labour Party officials to be on the lookout for "aggressive and potentially violent behaviour" at the conference this weekend.
I am sure the Labour Party will be able to handle anything that comes their way. After all they had no problems 11 years ago when a Stop the War Coalition member was forcibly ejected for heckling the then Foreign Secretary, Jack Straw during a speech supporting UK military intervention in Iraq. According to the Daily Telegraph
The Foreign Secretary was telling the conference that Britain was in Iraq "for one reason only" – to help the elected Iraqi government – when Walter Wolfgang shouted: "That's a lie and you know it." Mr Wolfgang, was immediately surrounded by security staff in full view of the television cameras and ejected from the hall in Brighton as officials revoked his pass.

When he tried to re-enter the secure zone, he was stopped by a police officer citing the Terrorism Act. At first Sussex police denied that Mr Wolfgang had been detained or searched but a spokesman later admitted that he had been issued with a section 44 stop and search form under the Terrorism Act.

Mr Wolfgang said: "We have reached a situation where freedom of expression has been threatened. I am not surprised, because the Labour Party has been taken over by a gang of adventurers who are on their way out."
Mr Wolfgang was just as left wing as Jeremy Corbyn. He was a founder of CND who wanted to nationalize the land, ban nuclear weapons and leave NATO. And for that he was ejected from the Labour Party conference and arrested under the Terrorism Act. But the next day he was back in the conference and Prime Minister Tony Blair publicly apologised on national radio and television.
So when politicians like Chuka Umunna claim that levels of abuse, intimidation and vitriol in the Labour Party are worse than he can remember in the last 20 years, perhaps someone should remind him of the time the Blairites had to apologize when their "thugs" (with thanks to my MP, the Blairite John Woodcock for legitimizing this term of political analysis in a recent article in the Daily Mail) picked on an 82 year old Jewish socialist who escaped to Britain from Nazi Germany before the Second World War and joined the Labour Party in 1948.
Speaking of John Woodcock, his article ended with an invocation of the name of Clement Attlee. This showed an unfortunate sense of timing given that Atlee's great nephew and great niece recently came out in support of Jeremy Corbyn. And then one of them, John MacDonald, was suspended from the Labour Party for activity on social media that does not exist.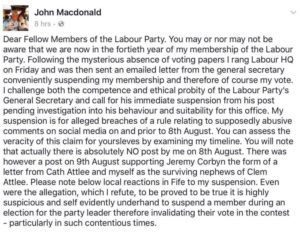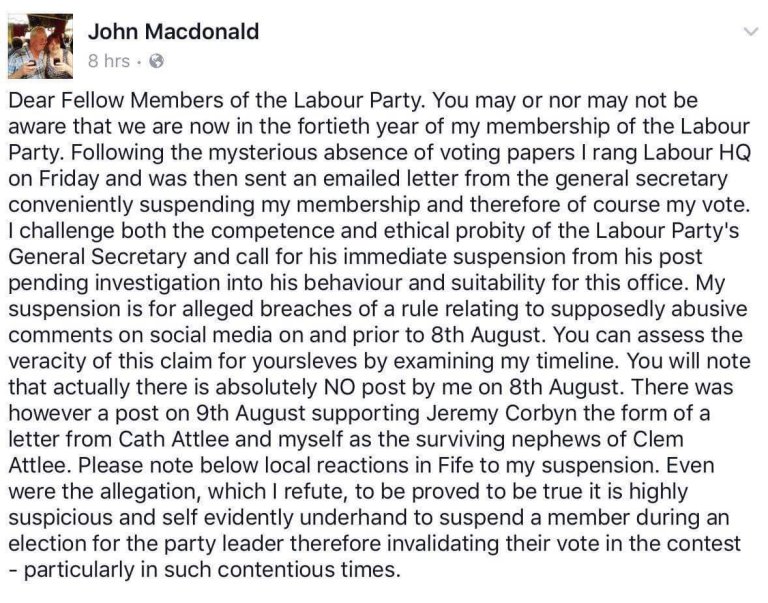 This is old style Blairite spin in action. Feed the press with a scare story about potential bullying and intimidation that has not happened yet, while conveniently ignoring what did happen when you were in charge. Raise up the spectre of a hit list of MPs facing potential deselection while ignoring the fact that thousands of members have already been deselected by the Labour Party's Compliance Committee removing longstanding members' right to vote. Complain about abuse while subjecting Corbyn and his supporters to unremitting abuse, questioning their capability, their honesty and their political and moral fibre while studiously avoiding any reference to their policies. Unless your name is Owen Smith. In which case you lay claim to the policies while launching personal attacks on a leader whose policies you claim to support.
Never mind. Jeremy Corbyn is going to win the leadership election AGAIN. Will his opponents in the Labour Party remember their democratic credentials and get behind him. What would Clem Attlee think of it all?